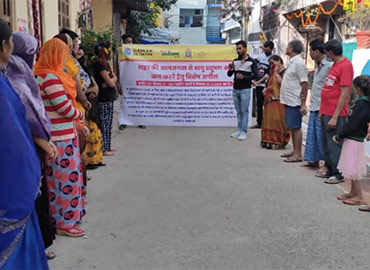 Feedback Foundation is providing support to Indore Municipal Corporation in their endeavour to control air pollution in Indore. Training is being provided to the sanitation workers and awareness drives are conducted to control air pollution and improve air quality index. Following points are being focussed during the training:
Burning of waste to be avoided.
Segregate waste at source and give to collection vehicle only.
Waste from crackers to be given to collection vehicle and not burnt.
Green net to be used in construction sites.
Construction and Demolition [C&D] waste should not be left in the open areas and should be given to the designated vehicles of Nagar Nigam.
Bonfires to be avoided in winters and heaters to be used instead.
Public conveyance and cycles to be used for commuting as much as possible.
Treated water to be sprayed in pollution prone areas instead of fresh, clean water.
Operations in Brick factories and other such polluting industries to be paused for some time when pollution level increases.
Bad roads to be maintained timely.
Special Abhiyan for mechanised cleaning of road dust.
Diesel generators to be used only when it is very necessary and with controlled noise and air pollution conditions.
LPG to be used in place of solid fuel.
Feedback Foundation [FF] has been empanelled by Indore Municipal Corporation (IMC) as an agency for creating awareness in 3 zones of IMC, Madhya Pradesh for Solid Waste Management. As part of this intervention, FF is conducting awareness and IEC (Information, Education and Communication) campaigns for mass mobilization of all waste generators for waste reduction and segregation of waste at source. Capacity building workshops and SBM thematic drives are also being organized.