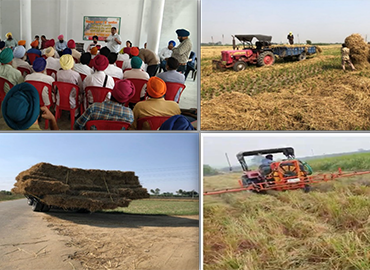 Stubble burning is an episodic (seasonal) problem which contributes to the surge in pollution and creates massive public health crisis – its fumes pollute swathes of northern India and endangers the health of hundreds of millions of people. Crop Residue Management [CRM] Project has been initiated to address this issue and Feedback Foundation in partnership with Godrej Properties Ltd. is providing technical support for Crop Residue Management in rural areas of Gurdaspur District.
The project is being implemented in around 2000 ha. of land spread across 10-12 villages in rural areas of Gurdaspur. The objective of the project is to attain zero stubble burning using various technology options in these villages.  It is estimated that around 16900 TCO2 will be removed from the environment through Crop Residue Management interventions in a span of 3 years. The project is aligned with Government of India's guidelines (revised in 2020) for Crop Residue Management (CRM) in the states of Punjab, Haryana, Uttar Pradesh and NCT of Delhi.
In its first year of implementation, 955.60 hectares of crop land area have been covered for management of stubble.  500 TCO2 of total emission reduction was achieved by avoiding burning of 47,207 quintals of stubble. The technology options used in the villages are using of stubble as fuel in     sugarcane factories, in-situ composting of stubble and using stubble as fodder. In the second year 2000 hectares of land will be covered and sustainability will be ensured in the third year.