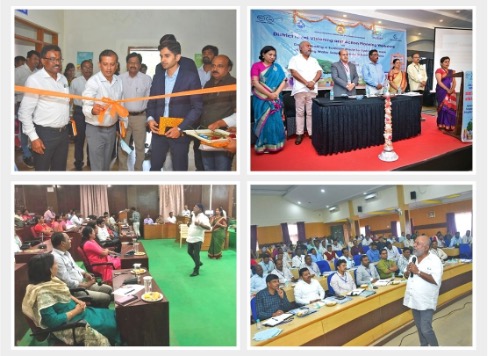 The World Bank has partnered with Feedback Foundation [FF] for Institutionalizing Sustainable Operation and Maintenance of the Drinking Water Supply Scheme in Rural Karnataka. The objectives of the project are:
To build capacities of the state, district, block and GP level functionaries on Community approaches to O&M of rural water supply schemes in Karnataka.
To create a pool of trained personnel, skilled in facilitating the implementers at GP/ village level for total coverage and effective O&M of the water supply scheme.
To create a demonstrable model for community-based approaches to Village Water Safety and Security [VWSS] planning to serve as basis for policy shifts.
As part of this intervention, district level visioning and action planning workshops were conducted in Dharwad, Haveri and Gadag districts of Karnataka on 28th, 29th and 30th of November 2022 respectively, on demonstrating a scalable model for sustainable service delivery of Drinking Water Supply. The purpose of the workshops was to sensitize and orient district level key stakeholders on Community Approach to VWSS planning, and to share experiences and best practices to create demand for scaling up in the districts.