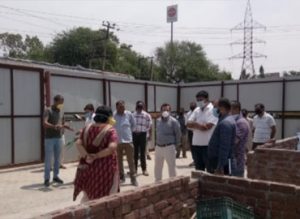 Feedback Foundation (FF) is providing technical support to Panchkula Municipal Corporation (PMC) for implementing Integrated Decentralized Solid Waste Management model across three locations of the city. Under the project, the team will offer end-to-end solutions for effective management of municipal solid waste generated in eight wards across these three locations.
On May 2 nd , representatives from Feedback Foundation met the Commissioner of PMC, Executive Officer, SDO and other key personnel of PMC. They visited the Composting Site at the Industrial Area Phase – 1 and discussed about the implementation of Solid Waste Management related activities, construction of the Composting Unit and Sanitation Parks. The team has initiated the capacity- building workshops for sanitation workers.
The team will work intensively on citizen mobilization for waste reduction and segregation initiatives. The team will reach out to all waste generators [domestic, institutional and commercial] as well as bulk waste generators. The bulk waste generators will be sensitized to follow SWM Rules 16 and implement in- situ processing and treatment of waste. The waste generators will also be appraised about 'polluter must pay' principles so that revenue is generated to meet the operating cost. Natural leaders will be identified and nurtured and a series of sensitization workshops for waste generators will also be conducted to generate enthusiasm and citizen participation for effective management of solid waste.