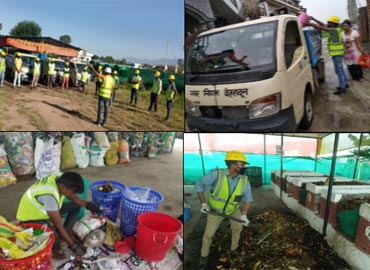 Integrated Decentralized Solid Waste Management Model has been developed at Nathuawala, Ward 100, Dehradun by Dehradun Nagar Nigam with technical support of Feedback Foundation. This demonstrable and scalable SWM Model has been developed for wider replication across the state. A sanitation park is developed to meet the SWM requirement of the ward. Door-to-door collection of segregated waste is done by collection boys which is then brought to the sanitation park. The segregated waste is categorised as wet waste or biodegradable, dry waste or recyclables (i.e. plastics, wood, metals, paper, paper board, glass, textiles etc.), domestic bio-medical and domestic hazardous waste. Secondary and tertiary segregation is done at the sanitation park.
The wet/biodegradable waste is converted into compost through the composting units built at the sanitation park.
Dry waste/recyclables are sorted into 30 categories, based on their economic value, washed and stored in designated separate chambers, and sold to identified vendor, or converted to value-added products.
Domestic bio-medical and domestic-hazardous wastes are stored safely and transported to treatment plant/authorized vendor for safe disposal.
Beautification of the Sanitation Park has been done with landscaping, plantation and a badminton court has been constructed for children. 'Neki ki Deewar' or 'Wall of Kindness', dedicated to helping people in need has also been made in the Sanitation Park with support of Dehradun Municipal Corporation.
The sanitation park at Nathuawala has become a learning hub for all sections of society. It is being visited by representatives from other ULBs for understanding and replicating the model in their respective ULBs.
Participants of Swachh Bharat Exposure Workshop (2019-20) conducted by National Institute of Urban Affairs (NIUA), with support from the Ministry of Housing and Urban Affairs (MoHUA), were also taken to the sanitation park for exposure visit.