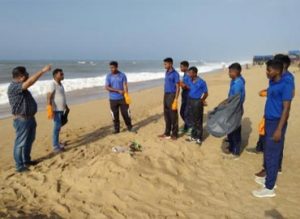 The world heritage site Konark, Odisha, the home of the gigantic Sun Temple, is grappling with the problem of managing the solid waste generated by both residents and tourists. The Notified Area Council (NAC), Konark is spread across an area of 35 square kilometre in 13 wards, accommodating close to 5000 households, 1500 commercial establishments and 50 institutions. Daily generation of waste amounts to approximately 6 tons and there is no adequate facility, infrastructure and manpower to address the issue. In this context, the district administration of Puri approached Feedback Foundation (FF) to implement the 'No Open Waste' (NOW) model in the town. FF is providing technical expertise to the Konark NAC to implement a unique model of decentralised solid waste management to make this heritage town a 'NOW' town.
The project was kicked-off on 15 th July, 2019 beginning with a planning meeting in the presence of District Magistrate-cum-Collector, Additional District Magistrate, Superintendent of Police, of Puri, Executive Officer of Konark NAC and representatives of Tata Trusts, wherein the modalities of implementation were discussed. On 16 th July, 2019, a town-wide sensitisation meeting with stakeholders from all strata was held at Konark to make them aware of the gravity of the solid waste situation of the town and the purpose/objective of proposed 'NOW' initiative. The district administration is very keen to implement this unique model in Konark and proactive steps such as land identification for two sanitation parks, preparing maps, drawing designs has been completed. To begin with, the FF team integrated the existing beach cleaning initiative into the overall 'NOW' framework and participated in one such beach cleaning initiative and trained the volunteers in segregation of solid waste. The team has conducted several cluster level triggering meetings and assessment in the wards has begun and sanitation workers are being trained to efficiently work towards achieving the objective of Swachh Konark.
The people of Konark are enthusiastically embracing this initiative of District administration of Puri and FF's approach in making the town 'No Open Waste' to position Konark as probably the first heritage site with no visible waste anywhere in the town.