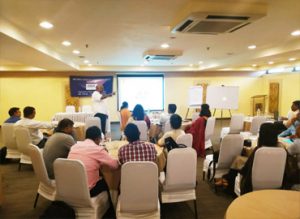 Mr. Ajay Sinha, CEO, Feedback Foundation (FF) was invited as a guest speaker at HDFC Bank's Parivartan Regional Partner Meet held in Delhi on 17 th May 2019. Mr. Sinha chaired the session on, 'Understanding Society  Behavioral change), Waste Management and its economic impacts in Sustainable Development Goals (SDG) Context.
Parivartan is the CSR initiative of HDFC Bank, to reach out to communities and enable them to shift from a vicious cycle of poverty to a virtuous cycle of growth. Feedback Foundation was invited to be part of the meet organized towards transforming lives of disadvantaged and marginalized people in their coverage area. The emphasis was on collaborative commitment to address socio-economic issues of reference communities. There were 30 participants in the session held at Shervani Nehru Place, New Delhi.
HDFC's CSR team is keen to partner with Feedback Foundation to push solid waste management agenda through FF's 'No Open Waste' approach in few cities in North East.