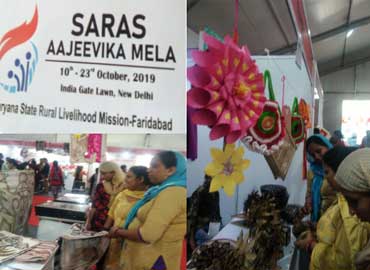 Feedback Foundation is undertaking activities towards women empowerment initiative in Sanjay Camp at Moti Bagh, South Delhi. As part of this intervention, on 22nd October some women of Sanjay Camp were taken to Saras Aajeevika Mela, at India gate, these women will be part of the Self-Help Group (SHG) being formed at Sanjay Camp.
At this fair, more than 500 rural SHG craftswomen had showcased their products like handicrafts, handlooms, natural food products etc. It is a platform to showcase and sell the products made by SHG women and build linkages with bulk buyers.
The purpose of visit to this fair was to make the women of Sanjay Camp confident and zealous. Here, they could see what women of SHGs across the country are doing, it was an opportunity for them to learn and believe that they can also do something new. They were exposed to various new means of livelihood. They came back excited and confident that they can also do much more.
The project is supported by Inter Globe Hotels Private Ltd (IGH).