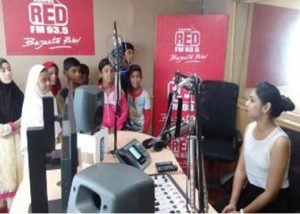 Assignment & Background:
Initiating behavioral change work through Community approach in allotted Zones of Aurangabad. Feedback Foundation (FF) and Aurangabad Municipal Corporation (AMC) Maharashtra, are implementing the 'No Open Waste' (NOW) project. The Pilot Project will spread awareness among citizens on segregating and recycling waste, bringing about a change in mindset, and on the other hand, it will support the Municipal Corporation in streamlining waste collection mechanisms. The objective is to catalyze behaviour change as well as bring citizens and the government to work together in tackling the problem of waste and creating a sustainable environment for everyone.
Children as Change Agents
Children are very effective change agents, this has been proved by the children of Jalal Colony. Earlier piles of garbage could be seen everywhere in this colony, but after being triggered, Aata Majhi Satakli group of children was formed. These bunch of enthusiastic children took active part in the 'No Open Waste' Campaign immediately and pledged to make their colony clean.
Awareness &Behaviour Change
These children did Swachhata Rallies spreading awareness on segregation at source, went door to door with FF team and ensured segregation is done at source. Composting pits have been made and wet waste is put there by the residents now. Dry and hazardous waste is collected by a vehicle from Corporation every Wednesday. Recyclable waste is being recycled and as a result Jalal Colony became No Open Waste Colony. When Red FM 93.5 Aurangabad came to know of this AataMaaziSatakli Gang, they invited them to their studio and interviewed the children about their contribution and great achievement and the children gave the following message for the people of Aurangabad: "MazaKacharaMaziJababdari" and NO OPEN WASTE.
Outcome:
Jalal Colony became a NOW (No Open Waste) Colony, where total segregation is being done by the residents followed by safe disposal. The Colony and this gang have set an example for others.