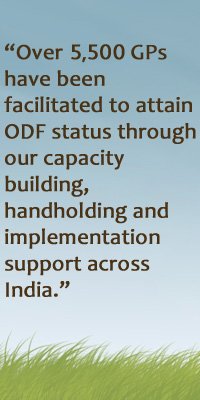 Feedback Foundation has been the leading agency to introduce CAS across the country. 80% of total projects using this approach are being implemented by Feedback Foundation.
Feedback Foundation has contributed towards defining 'Open Defecation Free' and framing the ODF Sustainability Guidelines for the GoI.
Feedback Foundation is one of the Key Resource Centres (KRCs) of the Ministry of Drinking Water and Sanitation (MDWS) for building the capacities of other National and State Resource Centres/ Institutions, thus enabling the country to achieve the national target of becoming Open Defecation Free by 2019.
UNICEF has entered into a long-term agreement with Feedback Foundation for providing capacity building and handholding support to all KRCs and states on behalf of MDWS.
Feedback Foundation has conducted over 750 capacity building events across 23 states of India and in neighbouring Nepal.
More than 48,000 motivators/ facilitators/ master trainers have been trained on CAS.
Over 5,500 GPs have been facilitated to attain ODF status through our capacity building, handholding and implementation support across India.
With successful interventions and advocacy by the Feedback Foundation, policy level changes in Rural Sanitation ushered in Bihar, Odisha, MP and Rajasthan.
Handholding and implementation support continues to be provided across Madhya Pradesh, Jharkhand, Bihar, Tamil Nadu, Karnataka, Jammu & Kashmir, Uttar Pradesh, Assam, Odisha, Rajasthan,Haryana and Gujarat.
Visioning and action planning workshops have been facilitated for State and District level chief functionaries across India.
FF has executed country-wide projects in school sanitation. It has worked across 10 states and 32 districts to inculcate behaviour change and institutionalize operations and maintenance systems for school toilets and sanitation in general, across 5,560 schools.
In collaboration with Tata Trusts, Feedback Foundation is building the capacities of Zilla Swachh Bharat Preraks (ZSBPs) that will provide technical and management support to key district officials across the country, in their efforts towards becoming ODF.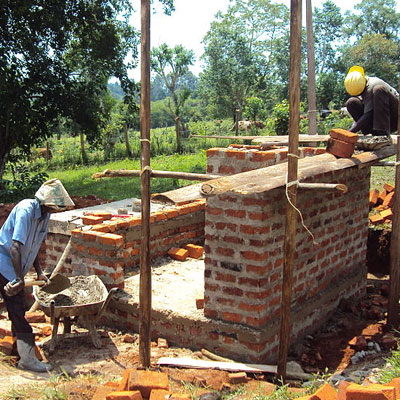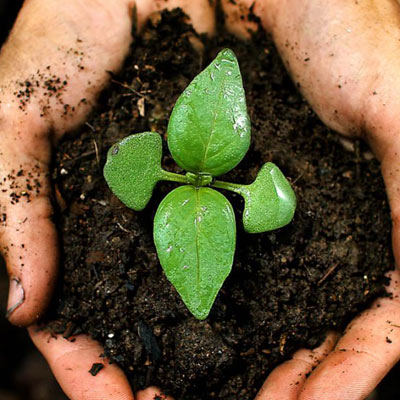 Feedback Foundation Events