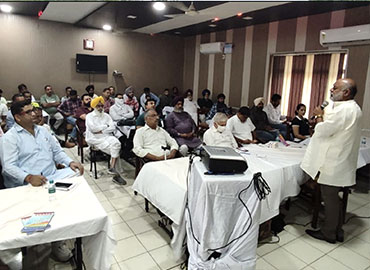 Feedback Foundation [FF] organized two Sector Triggering Workshops for key waste generators on 7 th and 8 th September, 2021 in Batala Municipal Corporation. The workshop was led by Mr Ajay Sinha, CEO of Feedback Foundation, and attended by a total of 66 participants including Dr. Puran Singh and Dr. Naresh Kumar from PMIDC, Sanitary Inspectors and Ward Councilors of Batala Municipal Corporation and Supervisors of Ward Nos. 14, 26, 36, 37, 42 and 43. The objective was to apprise the participants about their responsibility to ensure segregation of waste at source and Integrated Decentralised Solid Waste Management. Solid Waste Management Rules 2016 and its associated rules and policies were also shared. It was a very informative and interactive session and everyone committed to extend complete support towards the cause and help their wards attain the status of 'No Open Waste'.
Ward No. 14 has attained Zero Waste status in mere 15 days and Municipal Councilor of the ward made a presentation and explained how his ward attained the feat with the support of Feedback Foundation and citizens of the ward.
Feedback Foundation is providing technical support for 'Implementation of Integrated Decentralized Solid Waste Management in all wards of Batala Municipal Corporation' and the workshop was organized to create an enabling environment towards this initiative.  The project is supported by the CSR wing of Godrej Properties Limited.