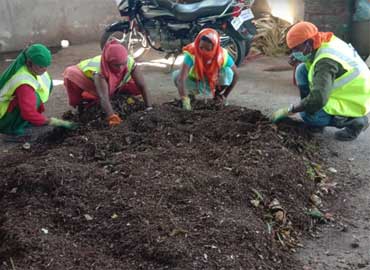 Feedback Foundation (FF) team has initiated capacity-building workshops for sanitation workers at Panchkula and the citizens are also being mobilized for segregation of waste at source and reduction of waste. The residents have started giving segregated waste to the collection boys. Segregated waste is now being collected from sectors 10, 12, 12A, 14 and 15. The wet waste of approximately 2000 kgs is sent to the composting unit at Sector 12 for composting every day.
Wet Waste Treatment and Processing Procedure
Secondary segregation of wet waste is done to filter out any inorganic matter.
Larger fractions are shredded with chopper.
Bacterial culture is mixed with the wet waste and moisture is added as per requirement and mixed homogenously.
The bottom of the pit is spread with crushed dry leaves.
The mixture is then put in composting pit.
Any inorganic matter still visible while putting the mixture into the pit is again removed.
The upper layer is covered with jute bags dipped in culture solution.
The compost is ready in 45 days.
This is part of the interventions under the Solid Waste Management project at Panchkula where FF is providing technical support to Panchkula Municipal Corporation (PMC) for implementing Integrated Decentralized Solid Waste Management model across three locations of the city.