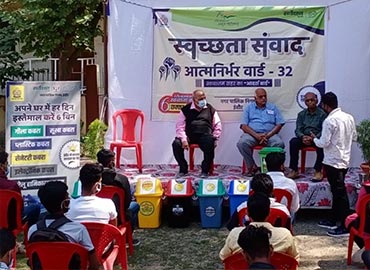 Feedback Foundation has been empanelled by Indore Municipal Corporation (IMC) for creating awareness on Solid Waste Management. IMC has also assigned Feedback Foundation with the task of making Ward No. 32 as an 'Aatmanirbhar ward'.
The concept of 'Aatmanirbhar Ward' is the first of its kind in the country and Team Feedback Foundation is leaving no stone unturned in making the ward a zero-waste ward.
Under this initiative, efforts are being made to reduce waste generation and managing the waste within the ward. The key to a clean, garbage free city lies in citizens doing their civic duty of source segregation and composting. Various IEC activities are, therefore, conducted for creating awareness about segregation of waste and waste minimization at source. Door to door visits have also been conducted to trigger the citizens for behaviour change, by inculcating responsible waste disposing habits, by appropriately segregating waste and ensuring proper disposal. Six bin segregation is taking place in the ward. Wet waste generated in the ward is now processed within the ward through home composting and community composting. Dry waste is segregated and sold to authorized vendor for recycling/safe disposal.
People of Aatmanirbhar ward also promote kitchen and terrace garden and use their self-prepared compost in the garden. They have boycotted single-use plastics and are using eco-friendly products. They also took an oath of maintaining cleanliness and are putting all their efforts. Ward 32 is a Zero Waste Ward now and it has been possible because of the active participation of the residents.
The concept of 'Aatmanirbhar Ward' has been so appreciated by the Ministry of Housing and Urban Affairs (MoHUA) that they have now started an Aatmanirbhar Ward category for urban local bodies (UBLs) competing for Swachhata awards.